Press
         Festival Theatre and audiences love having Colleen Raye on the stage.  Colleen is warm, welcoming, funny and so very talented.  At her Christmas show last year she joined our community singing Christmas Carols at the bon fire and visited our local senior citizen center to enjoy chili and mingle with our residents. Every time she performs at Festival Theatre it's a night to remember.  
               Pam Vlasnik- Festival Theatre St. Croix Falls WI
Colleen Raye has toured several of her shows on our presenter circuit  and all have beeen very well received!   She and her singing partners really have the vocal chops, the on-stage charisma and back stage professionalism.  You can't go wrong with any of Colleen Raye's shows!          
      Paul Folin  Allied Concert Services. Plymouth, MN
"Colleen Raye has a strong following here in Red Wing, MN. Her productions bring a high quality of professionalism and musical talent combined with local flair for our audiences."
      Russell Johnson  Director of Production  The Sheldon Theatre Red Wing, MN
"Colleen and her team of vocalists and musicians deliver great performances, while being completely engaged with her audiences. It is a pleasure working with Colleen year after year. "
      Brian Luther  Executive Director  Ames Center Burnsville, MN
The Phipps Center for the Arts premiered The Girl Singers of the Hit Parade and subsequently presented Sirens of the '60s (twice), Belting Babes of Broadway, A Musical Tribute to Patsy Cline, An Evening at the Cabaret, and Sinatra and Company.  In addition, we have presented Colleen Raye and Company for multiple performances on New Year's Eve for the past 20 years.  I highly recommend all of Colleen's shows, which are beautifully sung, well-paced, and very entertaining.  Our audiences love Colleen and her talented family and friends.  
      John H. Potter, Executive Director, The Phipps Center for the Arts
"Colleen Raye and her crew have always been such a pleasure to work with over the years. They are professional and so easy to get along with, which cannot be said of all touring groups we've brought to town." -James L. Walker, ACT Artistic/Managing Director
Colleen Raye brightens up the lives of everyone she touches, whether it be with her music, her engaging personality, her remarkable sense of humor, and her extraordinary sense of charm and generosity. Put simply, our lives are improved, our spirit is elevated, and love of life is heightened by Colleen Raye's contagious personality. What a pleasure it was to host Colleen Raye at the Mabel Tainter Center for the Arts, whose mission charges us to unite as a community and celebrate the arts. Colleen Raye is the embodiment of that long-standing goal.
Steve Renfree, Mabel Tainter Center for the Arts, Executive Director.
The Girl Singers of the Hit Parade served up a heaping helping of song,
sound, and memories.  A person couldn't have asked for or received more if he'd paid $100 for a ticket or traveled 100 miles to see the show.
Ken Buell  Rosemary Clausen Performing Arts Center, Holstein , IL
COLLEEN RAYE

Variety New York – Paul Harris
"Powerful alto voice...distinctive style."
Las Vegas Review Journal - Don Usherson
"Here's how Colleen has been described by reviewers... She shines... a delightful and obviously well-trained voice."
Albion Record
"Show stopper voice with just enough rasp to put a tremor in any strong man's knees"
LeMetro - Denver
"Colleen blends the qualities of Roberta Flack, Streisand, Bobbi Gentry and the freckled-faced girl who used to sing in the choir on Sunday"
Hasting Star Gazette - Steve Eide
"Heartfelt professional voice...torch song white soul..."




CABARET

Peter Polzak (jazz musician and producer- Chicago, IL)
"It sounds effortless, filled with melody and unafraid to leave space." 

Ken Buell - Vice President, Rosemary Clausen Center for Performing Arts
"It was well worth the six hour drive. Colleen Raye was no stranger to me, since I had already seen her perform as part of the Girl Singers of the Hit Parade and the Sirens of the Sixties.  This night would offer yet another side of Colleen, however, as she presented a new cabaret show that she is developing, and I couldn't wait to see it.
 The cabaret-style show is Colleen's personal favorite, and it shows.  She stepped forward into the spotlight like it was an old friend, and she quickly took command of the stage and soon enough, the entire house.  Every pair of eyes in the audience was on her alone.
 The selection of the opening number, "I Love Being Here With You," was perfect.  Colleen made us believe her because clearly it was true.  That was followed by a collection of songs that were wonderfully suited to her clear, warm voice and style.  Who could know that a western Wisconsin girl could nail such diverse offerings as "Tumbling Tumble Weeds" and "Fly Me to the Moon"?  I always associate the latter with Frank Sinatra, but even the Chairman would have smiled and nodded in appreciation at Ms. Raye's version of his classic.
 The crowd was creating its own buzz as well.  One gentleman was heard to say, "This show is simply fantastic. I have to see it again!"  Pat Tapp, who came from St. Paul to review the performance, remarked, "Colleen is a classic stylist with the charm of an Ella Fitzgerald or Nancy Wilson.  This show can go as far as she wants to take it."
We all knew that soon enough, this show could be the Oak Room in New York's Algonquin Hotel as easily at it did at the beautifully restored Mabel Tainter Theatre in Menomonie.
Colleen Raye is part of an incredibly talented performing family, but this show confirmed that she is still its matriarch, its queen, if you will.  Long Live the Queen!"   
 


GIRL SINGERS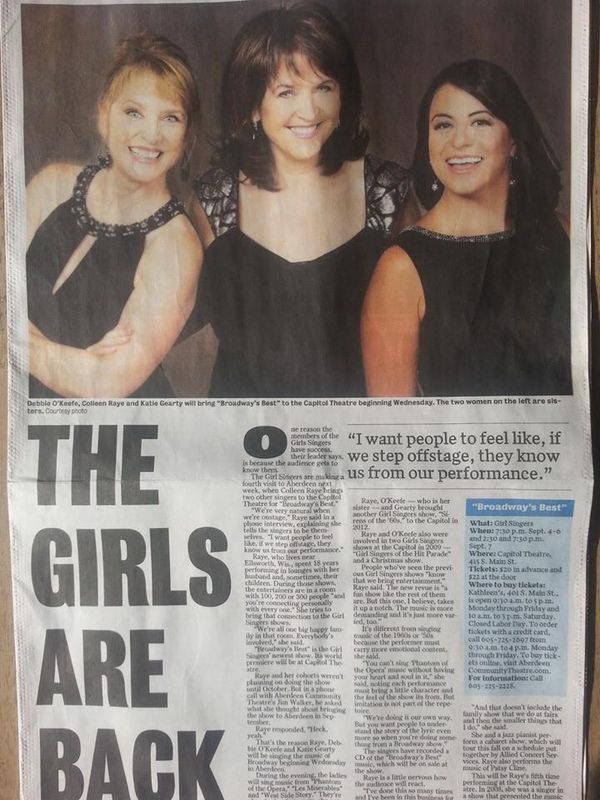 1st Choice Tours - 952-831-1799 - Shirl Kienholz
 "The Red Hatters loved the Girl Singers of the Hit Parade. Their show was outstanding and their voices golden and perfect in harmony. They received a standing ovation. I am booking their Christmas Show which I am sure will be equally outstanding especially with their Red Glitzy Holiday dresses"

 American News, Aberdeen SD - Melissa Erlenbach
 "Run, don't walk..I'm afraid if you miss this once-in-a-lifetime show that you may be singing "Who's Sorry Now".
Artistic Director, Pipestone Performing Arts - Dennis Hansen 
"So much fun. Such memories . . . I know people will be talking for weeks about the show."
 
Hudson Star Observer - Margaret Ontl
 "Girl Singers Have a Hit!!"
 
Phipps Center for the Arts - John Potter - Executive Director
 "Girl Singers" features terrific songs, great pacing, and fabulous voices. Our sold-out audiences loved this show."

Old Log Theater - Don Stolz
 "Because I respected the work of Norton Lawellin, I booked THE GIRL SINGERS OF THE HIT PARADE into the Old Log. The audience and I were delighted with their performance. It was more than a concert, it was a show carefully put together with excellent musical arrangements, good choreography, and marvelous singing."
 
Rowdy Red Hat Mamas - Queen Linda Glenn
"Little did I know when I bought my ticket for The Girl Singers, that I was going to see "A performance of a lifetime"... The 26 members of my chapter that attended can't wait to catch another performance!"

Rowdy Red Hat Mamas – Diana Tendrup
"I have never enjoyed a live performance as much as I enjoyed your show, The Girl Singers at the Phipps Center". You were fantastic.  What energy.  It is obvious that each one of you enjoy what you are doing.  I was sorry that the performance came to an end.  I wanted more! Can't wait to see you again."
 The Girls of Voila! Media Group
 "A group of three of us from Voila! went to the Girl Singers Show and had a blast! It's not just for the person from that era; we were finding ourselves, laughing, tapping our toes and singing along. We'd really recommend the show to anyone!"
 Author - Milt Klohn
 "Six couples attended the "Girl Singers of the Hit Parade". We were thrilled by the quality! Each and every member of our party raved about the show ... Bring it back!"
 

Concert Pianist - Don Betts
 "A special musical evening...a true joy to hear. Three cheers for your great music making!!!"
Actress, Writer, Comedienne - Robyn Hart
 "I loved "Girl Singers!" I've been in the business for over 20 years and it's been a while since I've looked around an audience and seen so many people tapping their fingers and singing along. This collection of songs is a perfect collaboration of nostalgia and entertainment. As familiar as these songs and legendary singers are, it is good to be reminded how musically good they are. I had a wonderful time. I highly recommend seeing "Girl Singers"! 
Sabes JCC and Children's Theatre, Minneapolis - Aaron Gabriel
 "Girl Singers of the Hit Parade" is a thrilling, hilarious, and moving biographical revue about some of the last century's most influential female vocalists Ms. Raye's selection of pivotal songs (some well-known, some lesser-known) creates a perfect tribute to these amazing women and their lives. It is a reminder of their greatness and contribution to American Music."
 

Retired Computer Engineer - Gerry Deters (64)
 "As a 64 year-old 'youngster', I read about the "Girl Singers" and was anxious to take a walk down memory lane... I wasn't disappointed...With high energy, beautiful voices... blending humor with interesting facts and events from the lives of the stars, they made the whole experience even more enjoyable. I asked my best buddy if he wanted to see the show ... (he's 4 years old). He was charmed by the sights and sounds, just like his grandpa. Take your teenager to see this show! Hip-hop and rap will never hold the same allure after they've experienced real music performed by real professionals. .... It's not just entertaining, it's fun. I'll be at the next show with my bowling team and my grandson, Jack.
Singer, Entertainer and Recording Artist - Marilyn Sellars
 "Colleen Raye's tasteful song selections and Norton Lawellin's fresh arrangements and solid musical backing are a perfect match for the enthusiastic and pitch perfect singing of the ladies in this delightful show. You'll love it- I did"
 SMP Entertainment - Steve Swenson - Executive Producer
 "In my opinion the "Girl Singers" is one of the finest shows to come out of the Midwest in a long, long time. Fronted by four very talented women, they mesmerized the audience as they took them on a trip back to the 50's and down "memory lane". The show presents a tribute to five of the best female vocalists that ever sang in a microphone! Forget Elvis tributes! This show is romantic, funny, sentimental, sexy, educational and, very professional! I'll be contacting my clients regarding this show

Patty Richer
"Colleen, Just wanted to let you know that your show, The Girl Singers at the Phipps Center was fantastic.  I have never enjoyed myself so much, at a live performance. You gals are simply a delight to look at and listen to. Your
energy and enthusiasm is amazing, and every one of the songs you did were done so well. I loved the intimate cabaret theater. Can't wait to catch another show."
Char Goeman
"The Girl Singers is one of the best shows that I have ever seen, anywhere. The interaction between the 4 singers and the musicians is a delight to experience.  What a range of vocal talent. The "costumes" are gorgeous. The
renditions of each song are fantastic.  A totally absorbing performance. Cannot wait to experience Colleen Ray and her group again."

 THE GIRL SINGERS OF THE HIT PARADE TOUR WITH ALLIED CONCERT SERIES


 Lincoln, IL
"The entire group was cordial, helpful, met the audience following the performance and all very professional.  Good Selection!! Very Congenial.  Feedback was great.  Most definitely would recommend them to other communities."

Hannibol, MO
"All were very pleasant.  Very good with crowd, very well received.  Would recommend them to others! Pleased with performance!"

Sioux City, IA
"The program was exceptional. The voices were wonderful: their vocal blend fantastic.  The show was very professionally done; clever things were done with lighting, audience participation, etc.  They had the audience in the palm of their hands.  We would present them again!  The audience loved the show! Very, Very, pleased!"

Windom, MN
"A great, great show! Fun to see performers really love what they are doing - we'd love to have them back as soon as they have a new show, which they could do in a heartbeat!  Really Great loved it!  Comments were best ever!  Wonderful!"  

Cozad, NE
"Loved it!  Best show ever - it was our bonus show - it did help with new members.  This is a classic show - beautiful gowns, Tuxes fir the guys - they played the audience just great and they loved it.  Arrangements so lovely and took us back in time, Huge crowd, OUTSTANDING SHOW!!"

Hutchinsin, KS
"Huge audience, extremely positive.  Some said it was the best concert ever and asked when they would be back.  Extremely pleased!  Absolutely fantastic!"

LaJunta, CO
"They were great! They were among the best we've ever worked with. Audience was clapping, cheering, singing along and gave them a standing ovation."


Loveland, Co
"Very Good!  Audience was very receptive and participated with the performers."

Pratt, KS
"It was wonderful, the audience had a highly positive response, highly expressive with applause, standing ovation.  The program was varied with the wonderful music of the times and Hit Parade."